Product Description
1.Product Introduction
Silicon carbide hardness is very high, the Mohs hardness is a magnitude 9.5, the second only to the world's most hard diamond (10). It with excellent thermal conductivity, is a semiconductor, high temperature resistant to oxidation. Low grade silicon carbide (containing about 85 per cent of the SiC) is an excellent deoxidizing agent, it can accelerate the speed of steel-making, and easy to control the chemical composition, improving steel quality.
2.Product Application
Its products contain silicon carbide 98%, its tenacity is generally higher than other products, commonly used in the production of materials with lower tensile strength, such as glass, porcelain, stone, refractory smelting materials, there is non-ferrous metal processing.
Silicon carbide used for 3-12 inch monocrystalline silicon, polycrystalline silicon, potassium arsenide, quartz crystal wire cutting. Solar photovoltaic industry, semiconductor industry, piezoelectric crystal industry, engineering materials.
3.Product Index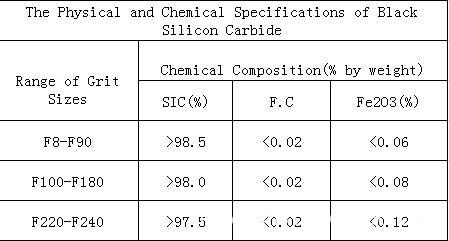 4.Product process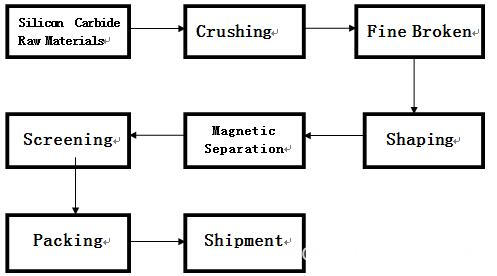 5.Packing And Transportion
Woven bag, lined with plastic film bags, each 25kg can also be packaged according to customer demand.During the transportation process, the silicon carbide shall not be dragged with hook, should prevent mixing with hard materials. It should belight unloading to reduce packaging crushing.to prevent rupture of bags, to prevent moisture and other substances to affect the product. Storage should away from sources of pollution.