Product Description
1. Product introduction
Coal-based columnar net gas activated carbon is cylindrical, tasteless non-toxic; as high quality anthracite the raw material, by process of crushing, mixing, extrusion, molding, drying, carbonization, activation and made. It has reasonable pore structure, good adsorption properties, high mechanical strength, able to withstand the high temperature, high pressure and not easily broken, easy to regenerate, and low cost characteristics. It is widely used in sewage treatment, gas treatment, solvent recovery, desulfurization and denitrification, nitrogen making machine, air separation equipment, paint shop and other fields.
2. Application
a.Coal columnar net gas activated carbon used for purification, such as chemical raw materials, pharmaceutical chemical synthesis gas, industrial gas, nitrogen, chlorine, hydrogen chloride, ethylene hydrocarbons, ozone, ethane, butane, cracking gas, carbon dioxide and hydrogen used in beverage; atomic facilities exhaust inert gas and remove the pollutants; also separate and purify mixed gas. It also can be used for gas masks and protective equipment disinfection and filtration.
b.Coal columnar net gas activated carbon is mainly suitable for industrial waste treatment, such as waste gas power plant, chemical plant gas, coking plant, smelting plant, oil plant. Coal columnar net gas activated carbon rely on the good adsorption capacity, developed gap, high iodine value can make a cleaning purpose.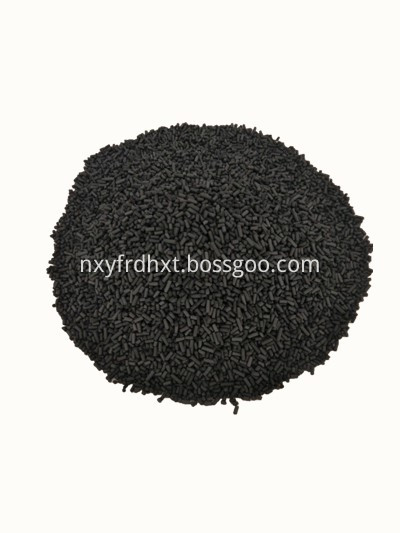 3. Adsorption purification principle and process
The physical properties of coal-based activated carbon introduction: it is cylindrical black particles; the physical, chemical properties analysis of carbon is a porous carbon, the highly developed pore structure makes it has large surface area, so it is easy to full contact with toxic and harmful gases in the air (and harmful impurities), so this highly developed capillary and pore structure formed a powerful adsorption force field, which gives the unique adsorption properties of activated carbon.
4. Transportation and Packing
Woven bag, lined with plastic film bags, each 25kg can also be packaged according to customer demand. The product should be placed in a cool and dry place during storage; When transportation, it prevents to mixed with hard materials, to prevent carbon particles broken that affecting the quality of packaging, to prevent breakage. To avoid leakage or mixed with debris; to avoid water, oil and fire.